From small data to big data, RBS is able to manage the information to find correlations and reason behind them.
The knowledge of the market and customer in real time are becoming an essential part of the strategic view of any retail company.
With Sportmas partner we are able to exchange data between suppliers and retailers based on the supplier product ID (EAN/UPC/EPC) in real time including sell out. Imagine to have the results of your promotional activities the same moment that consumer is paying at cash deck.
Using BI solution as POWER BI (incluir logo) or Qlikview (incluir logo) potentially combined with a RFID solutions permit to RBS support you on better and specific actions plans to improve your results, maximize your investment in marketing and increase your efficiency in the whole process.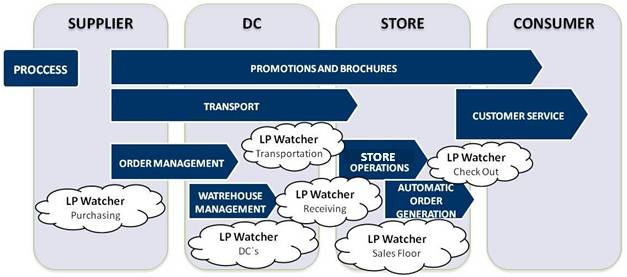 Lost prevention should be one of the main topics to manage in any retail company, big or small. Newfield tech company provide the unique suite of Business Intelligence is deployed as SaaS. No investments, systems changes, technology personnel dedication, software maintenance… are required. We add value to our customers in all dimensions of Loss Prevention, under an Integrated Change Management approach. Loss Prevention is a key component of profitability of leading European retailers . It may represent up to a 3% of sales, depending upon business segments and formats operated. Reductions regularly achieved in our programs may produce above 60 basis points of improvement in EBITDA.
We will identify your key elements and provide potential solutions to improve the results. With LP Watcher BI software they are able to track from supplier to consumer through DC and store all potential risk and offer adequate solutions